About Us
Founded in 2000 by John and Jennifer the company grew as what it is today.
Persistence and determination has paid off for this locally-owned family business with the energetic husband and wife team behind Voyager Bonaire Tours. Under their leadership the organization flourished, growing to today's volume of a couple of guides and drivers, all committed to providing visitors with a convenient, hassle-free, one-stop portal to a wide variety of experiences on Bonaire. Voyager Bonaire Tours offers open air and air-conditioned comfort island sightseeing excursions.
The company operates with salespersons in the lobbies of some island hotels. With more than 13 years of experience we always satisfy our customers with our tours. Voyager Bonaire Tours has offered a high level of service, for more than 13 years, earning utmost respect within the Bonairian hospitality industry as well as the international travel community.
Our Staff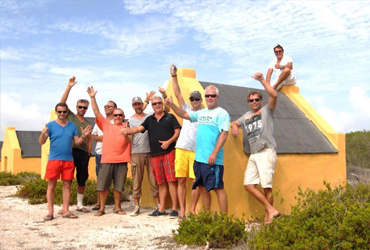 "Best tour we had on cruise with 5 locations visited!"

My family and I are were on a cruise which departed from Curacao and this was the first stop. Everything else paled in comparison to this excursion! Not only is Bonaire extraordinarily beautiful, our driver Eddy took us to the most gorgeous locations. He has a wealth of knowledge of the island and seems to know just about everybody. He even let us stay a little later at the beach. This was the highlight of our vacation! I would also like to add this is quite a bargain! We had first rate service.
Reviewed June 8, 2018
"Highly recommended, great experience, great value!"

We booked the Combi Tour at the port after reading glowing reports about the company and Anita. I was very pleased to find her at the selling point and to learn that she was the guide for the next tour ( 10:30 am). We are so pleased that we took this tour ( although it was last minute at the dock for us, you can book ahead online) as it was a really personal experience and so much better ( and cheaper) than those offered on the cruise ship, in large bus loads. We were in a comfortable van with 6 others, while maximum seating was only 10. Anita was everything already mentioned in other reviews and ensured we experienced as much as possible in the time we had. Her passion for her country, for the environment and for her job is obvious. Her ability to speak excellent English and about 7 other languages is a great asset. Voyager Bonaire Tours is fortunate to have Anita as a guide. Don't hesitate to book with them. You won't be disappointed!
Reviewed May 20, 2018
"Shore Excursion: North and South Sides of Bonaire"

Our first visit to Bonaire was highlighted by a terrific tour of this small island led by our wonderful tour guide Anita. She was extremely informative and knowledgeable about the island where she grew up. She was well spoken and very friendly. I highly recommend Voyager Bonaire Tours and especially Anita.
Reviewed May 15, 2018
"2nd Tour of the island, and it was worth it!"

After reading a few of the negative posts about this group, I couldn't help but wonder if we just got lucky or if our tour was just that good. Actually, I think it was just that good. We arranged the tour through our hotel because one in our party isn't a diver and wanted to get out and see the island. Our guide, Mitch, arrived on time, was enthusiastic and accommodating. To be honest, he was a lot of fun, and I'd be glad to take another tour with him again. This was my second time to Bonaire, and my second tour of the island. This was a much different tour than the first time. Even though some of the sites were familiar (hey, its an island, and its only so big), Mitch took us to several spots that we had not seen the first time around. Down the dirt roads to the Blowhole, the Indian paintings, the windsurfing... all new to us. Hey, we even got lunch on the tour! The tour included a trip to Rincon and a stop by the distillery. (They only do this on certain days because the distillery is closed at various times of the week.)
Reviewed July 16, 2016